First of all :
It runs!
It does not drive easily, but it runs!
The reason for this problem is the smal chamber of the wheelchair (not changeable)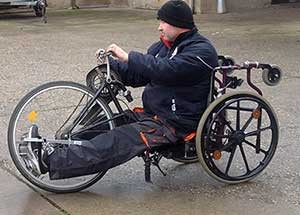 This handycle is a first attempt to build a Santa 66 Handycle without welding the rear end of the the bike. I wanted to try out different options because of feedback that sometimes it is not possible to weld on the spot.
Of course, I continued to try without high-tech in terms of material , working methods and tools, as it looks different in every country.  Please send me your comments to klaus@santa66.net.
I was asked several times for a constuction manual. I do not want that, since it depends on what wheelchair and bike you use. And I wanted to make sure the mechanic's imagination is not limited in any way. Because the idea of Santa 66 is not that you follow my instructions but that as many as possible have their own handcycle and ride it! All over the world!
You know what they shout in Mexican football stadiums: "Si se puede! Si se puede!" Yes, you can… build your own handcycle! .