Wheelbarrow-wheelchair
Built by a local welder with standard tools (no high tech), with local material (~ 50 Euro, except the rear wheelchair wheels) and tested by a 9-year old double amputee. All, organized, bought, built and tested, in only 3 days.
More info at our
wheelbarrow-wheelchair page
(Jan. 2016)
For this handcycle
we used the frame tail of a fully and the front of a kick scooter
(30th. Nov. 2015)
… and finally here is the real fun! By Dirk and Klaus
(30th. Nov. 2015)
Santa66.net participated in a converence (It was in Mexico, therefore all was in Spanisch)
Santa66.net participo en el congreso "ciclismo urbano y discapacidad", 2015 en Leon,Mexico.
Aqui esta el Audio del panel con santa66.net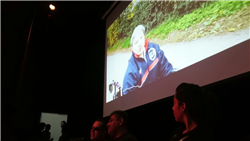 (Nov. 2015)
---
Hecho de Enrique (Mexico-City) por Michel — Made by Enrique (Mexico-City) for Michel
Una pequeña entrevista con Enrique!
(Oct. 2015)
.

---
.
Sorry, my drawing isn't to good, but it explains my idea!
My new idea to build a low cost, DiY, low tech… whelchair build using a wheelbarrow!
What do you think?
(May 2015)
.

---
.
(Jan.2015)
santa66.net is looking for test pilots, assisting to use the local and personal options!
If you're interested please write to klaus@santa66.net
***
santa66.net busca pilotos de prueba, para usar las opciones locales y personales!
Interesados escriben a klaus@santa66.net, por favor.
.
---
.
(Jan. 2015)
100 paises!!! 100 countries!!! 100 Länder!!!
Gracias! Thank's! Danke!
Visitantes de 100 paises en santa66.net!!!
Visitors of 100 countrys at santa66.net!!!
Besucher aus 100 Ländern auf santa66.net!!!
.
---
.
***
Noe's Bicimano 2.0 (Dec. 2014)
***
.
---
.
Trici Kiko (Sep. 2014)
.
---
.
Triciclo William…, ¿qué dices?
Tricycle William…, what do you say?
Dreirad William…, was sagst du?
(June 2014)
.
---
.
+++ Portador de ideas de bici de manos +++
+++ Idea carrier handcycle +++
+++ Ideenträger-Handbike +++
(Jan. 2014)
.
---
.
!!! Hecho en Mexico – Made in Mexico !!!
Noe & Noe's Bike
(Sept. 2013)
.
---
.
!!! Hecho en Alemania – Made in Germany !!!
Made with simple tools, Dirk & Dirk's Bike (June 2013)
Asi se conecta la silla de ruedas con la handcycle
That's how to connect bicycle and wheelchair
So hängt man den Rollstuhl ans Handbike
.